Mesto:
Beograd
Datum postavljanja:
25.11.2016.
Rok:
10.12.2016.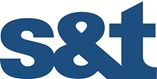 We are always seeking motivated individuals who share our goal of developing and providing the highest quality of services to our growing customer base.
S&T Serbia offers exceptional opportunities to work as part of our international team as a consultant, working with leading edge companies on major IT projects. We look for people that have the desire and ability to continuously learn and grow, and who are committed to quality and excellence. Our reputation is based on the professionalism, competence and quality of our people.
We are offering the opportunity for talented individuals to join our company and to become:
IT Service Desk Manager
Based in Belgrade
In this role, you will be responsible for leading technical support team to provide excellent customer service and resolve all technical issues. You should ensure that customer service is timely and accurate on a daily basis, should have a problem-solving attitude with an ability to motivate your team to achieve specific goals and ensure high quality technical support and increase client satisfaction.
Requirements:
BSc degree in Computer Science, Information Technology or relevant field
Proven experience as IT Service Desk Manager
Team management skills
Solid technical background with an ability to give instructions to a non-technical audience
Experience with call centers will be considered as an advantage
Working experience with complex projects and demanding environment will be considered as an advantage
Active knowledge of English language
Good organizational skills
Working experience in corporate IT environment will be considered as an advantage
Personal traits – precision, ethics, trust, rigor, passion
If you consider yourself to be one of the best, apply and let's talk.
S&T Serbia, part of Austrian based international corporation S&T AG, is one of the leading companies in IT services in Adriatic region. S&T Serbia combines world class technology with regional expertise and strong local understanding of customers' needs and expectations. It has been present on Serbian market for 20 years. Additional information can be found at www.snt.rs and www.snt.at .
Deadline for applications: 10.12.2016.