Mesto:
Beograd, Ćuprija
Senioritet:
Senior
Datum postavljanja:
25.09.2017.
Rok:
25.10.2017.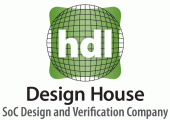 HDL Design House is one of the best companies for ASIC/System-on-Chip Design/Verification, Physical Implementation and Hardware/Software development, with the annual headcount growth of 40%. We offer a challenging work environment, competitive salaries, additional benefits as well as opportunities for skills acquisition and development. Currently we are looking for motivated and creative individuals to join our team.
Position:
Senior Firmware Developer - multiple positions in Serbia
Ref. code: FRMWR-SE021
Location: Belgrade, Ćuprija
The ideal candidate will have the following skills and background:
M.Sc.EE+ or equivalent degree in Electronics, Computer Science or Electrical engineering
5+ years' hands-on embedded system / firmware development.
Hardware / software integration, debug and co-verification
Comprehensive knowledge of the techniques of developing and designing embedded firmware
Extensive knowledge of PCIe protocol, integrated development environments, and digital signal processors
In-depth knowledge of micro-controllers assembling languages, digital hardware design, and hardware features and codes
Sound knowledge of debugging firmware, embedded firmware engineering concepts, and logic/bus analyzers
Ability to solve technical issues with strong communication skills
Skilled in meeting deadlines and work collaboratively in a team environment
Your key responsibilities:
You will be part of the team working on the firmware development for high end CPU and System-on-Chip
The position requires a close working with the different hardware and software engineering teams
Responsible for designing debugging codes as well as provide protocol interface for high level firmware
Handle the tasks of developing design concept of new product and prepare guidelines of prototype testing
Perform responsibilities of designing verification process and perform product testing in standard environment
Conduct FPGA prototyping and develop algorithms and software programs
Responsible for coordinating with quality assurance and software developers in testing products and systems
The candidate must have the knowledge and the interpersonal skills to be able to fit into very focused group of people working on very complex product development.
We offer:
Unique chance to join a rapidly expanding company offering fantastic career and skills development opportunities, as well as an exceptional salary
Permanent employment and additional benefits
Opportunity to be involved in sports activities with colleagues
Opportunity to travel abroad and work on our clients' cites
Working in young and enthusiastic team
For all candidates proficient knowledge of UNIX/Linux and fluent English is a prerequisite!
Please send your CV electronically.
Deadline for applications: 25.10.2017.