Mesto:
Beograd
Senioritet:
Intermediate
Datum postavljanja:
21.06.2018.
Rok:
21.07.2018.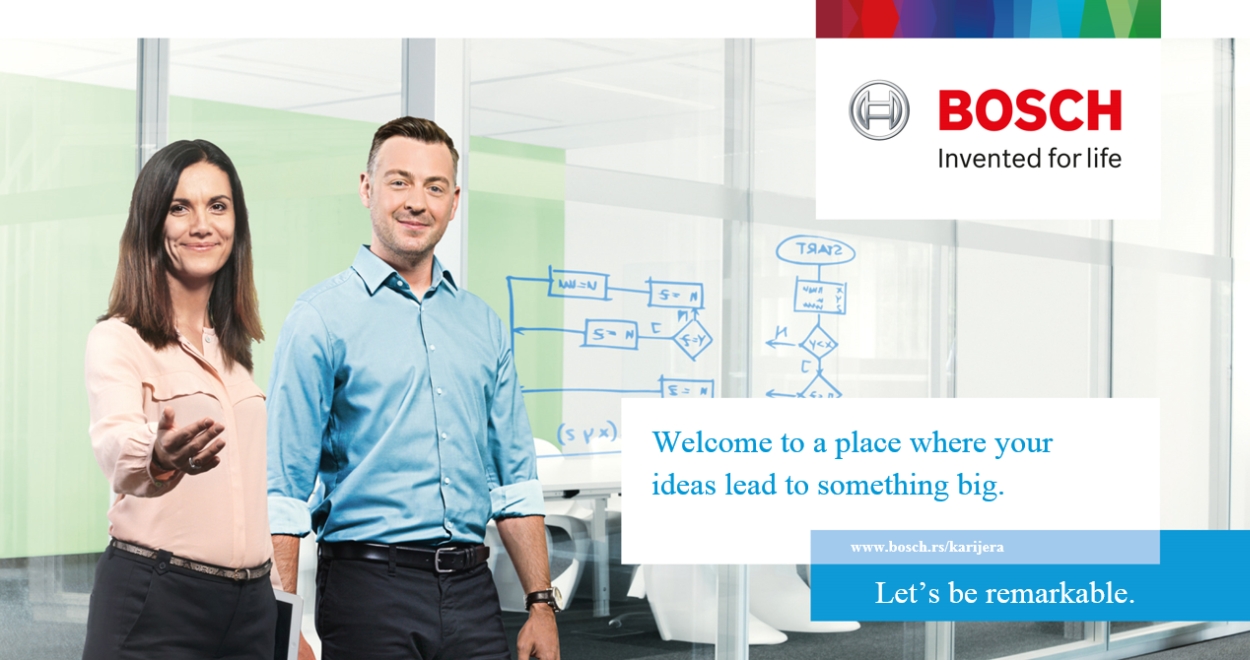 Start something big today. Apply now:


Software Test Engineer

Connected Vehicle - Automotive
Location: Belgrade


Do you want beneficial technologies being shaped by your ideas? Whether in the areas of mobility solutions, consumer goods, industrial technology or energy and building technology – with us, you will have the chance to improve quality of life all across the globe. Welcome to Bosch. At Bosch, we develop, examine and enhance new systems, components and technologies. Our aim is simple – improving lives.

Bosch SoftTec GmbH is a subsidiary of the Bosch Group with offices in Germany, USA, India, China and Serbia. We develop software solutions for navigation and driver information systems, and we specialize in applications for networked components in vehicles and innovative modules for Smartphones.

Your contribution to something big:

► Help shape the future: You will work in a department that is building personal assistance solutions for customers from various domains
► Create new things: You will be part of an agile scrum development team that builds customer-specific solutions on top of a personal assistant platform and will also advance the platform for future use-cases
► Deliver value: You will deliver high-quality personal assistant solutions that users can access via speech, touch and other means and that solve real customer problems
► Take responsibility: Depending on your experience there are a lot of components, technologies and tools that you can take responsibility for and steer them towards our common goal
► Use your creativity and freedom: We value your opinion! Work on concepts, implementation, improvement of our development processes, proof-of-concepts, integrate new cutting-edge technologies from different providers, share your experience from previous projects

What distinguishes you:

► Personality: Team-oriented and creative
► Working practice: Responsible and independent
► Experience: Several years of professional experience in software testing and/or test automation, ideally in an agile software development team (using SCRUM) or willingness to work as part of an agile team
► Knowledge: Know-how in software testing principles and system testing methodologies with proven application testing experience
► Additional Knowledge: Proven experience with state of the art development tools like Atlassian Toolchain, Continuous Integration (Bamboo, Jenkins), Cloud Foundry, Linux a plus
► Ability to create and update test cases and perform requirements traceability to ensure all requirements are tested and managed
► Skill-Set for effective status reporting
► Customer exposition: Willingness and ability to work closely with customers
► Languages: Good English skills both written and spoken
► Education: Degree in Computer Science, Software Engineering or similar

Your future job location offers you:

► Flexible worktime options, positions with permanent status, training, great team with experienced and helpful colleagues, chance to work in an international environment, chance to travel
► We offer you international working environment, a diverse and inclusive culture, a pleasant team working atmosphere and much more. At Bosch we believe in having a good work-life balance. We therefore work with a flex time system which helps you to follow your life passion.
Make it happen.
If you believe you are the right candidate, please send your CV in English using Apply button no later than 21.07.2018. Only shortlisted candidates will be contacted. www.start-a-remarkable-career.com