Secure, fully managed SaaS to deliver backup, disaster recovery, and data mobility
Purpose-built on AWS, for AWS Complete ownership of your data 100% Data Privacy and Sovereignty
START YOUR FREE TRIAL
Protect and recover your AWS workloads in minutes with zero management, maintenance, or impact to your applications START YOUR TRIAL REQUEST A DEMO
HYCU FOR AWS
Eliminate data loss and minimize downtime with data protection on your terms
Agentless, Impact-Free Backups
HYCU utilizes native snapshots and impact-free backups to deliver full protection without the lag and performance of on-premises tools.
100% Data Privacy and Sovereignty
Dealing with vendors who store and control your data is a headache that often causes compliance and regulatory concerns. Your data is yours, and HYCU will never store or control your data.
Dynamic, Scalable, and 100% SaaS
HYCU Protégé for AWS automatically scales up and down based on your application needs and features pay as you go pricing so you can avoid infrastructure requirements and upfront payments.
1-click Simplicity
Create set-and-forget policies with full ransomware protection. Enable one click self-service recovery of your applications, VMs and files.
Instant Lift and Shift Migration to AWS
Migrate on-premises workloads quickly while maintaining application consistency – with just one click.
Eliminate Data Silo Sprawl
Protect, manage, and recover all your workloads – on-premises and in the cloud – from one single interface.
Purpose-built for AWS
Native snapshots and services deliver a high-performance solution that takes advantage of the elasticity of AWS. Use of native terminology and storage tiers make HYCU Protégé for AWS intuitive and easy to use.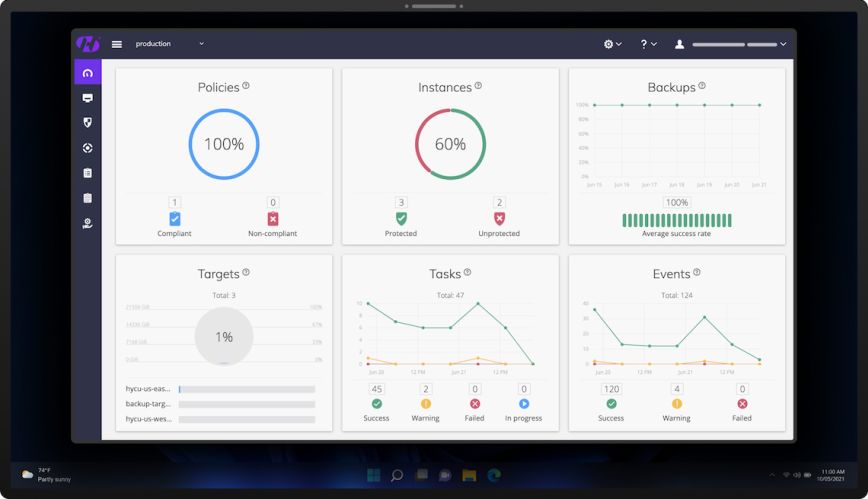 Visit the company profile.