Konkurs je deaktiviran.

Levi9
is 900-strong Dutch IT service provider with three Delivery Centers in Central and Eastern Europe. We partner with clients from an eclectic array of industries, ranging from digital marketing and sales, over transportation services, banking and ISVs to TV production. We make an impact on business with technology by taking an initiative and being proactive in delivering results. Only if everybody is willing to be transparent and share their knowledge, we will be able to get the insight we need. Strongly committed to our people, that is who we are. Join us, grow with us and have fun becoming a part of our successful story!
We are looking for an
Agile Delivery Manager
Novi Sad
You have the understanding of Agile software delivery principles, preferably Scrum. You already worked as a Scrum Master or Product Owner. SDLC and how projects in the area of software development are managed are not unknown topics for you. Project management methodologies are close to your heart. Prioritization – not an issue? You know what the backlog is, and you absolutely know how to keep it clear. Your heart beats faster when you can work in the field of software product management, and naturally you're goal-oriented. You understand the "why" part when doing things, and can present it adequately to your team members.
You're open, gregarious, creative, positive and optimistic who can support the team members and enjoy working with people. You can support the stakeholders in a confident and well-argued manner. You're fluent in English, with excellent verbal and written communication skills.
If these statements are describing you – You're the one!
You must be wondering what your duties and responsibilities would be. Here they are:
- Working with the client's business to analyze requirements and define/review specifications, managing changes to such specification
- Creating and managing project/release plans to a successful delivery
- Working closely with the team to ensure that they understand the business need, priorities and specification
- Driving software product development and testing to meet the client's needs
- Ensuring user acceptance criteria are documented and met
- Creating win-win solutions which address the interests of all stakeholders
What we offer?
- Permanent employment
- Working on complex systems development
- Opportunity for creative and independent work in an international working environment
- Personal development plans, mentoring program, trainings, education and certifications
- Business travel opportunities
- Adjustable start of your working day and optimal work load
- Great colleagues, open, informal and fun atmosphere
- Private health insurance, paid sick leave
- From 23 to 30 days of holiday per year, depending of the time spent in the company
- Game room for fun
- TechLab9 for researching purposes
- Garage for your bike
- Relocation package
Join the magic number!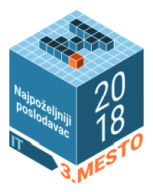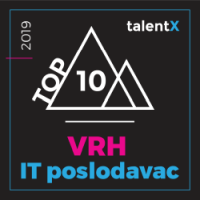 Deadline for applications:
22.03.2020.
Konkurs je deaktiviran.