Firmware Engineer
14.11.2019.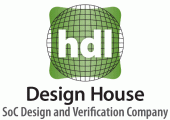 We are looking for a:
Firmware Engineer
Belgrade
HDL Design House delivers leading-edge digital, analog, and back-end design and verification services and products in numerous areas of SoC and complex FPGA designs. The company also develops IP cores, developed and verified using Cadence tools and flow, and component (VITAL) models for major SoC product developers. Founded in 2001 and currently employing 170 engineers working in three design centers in Serbia and Greece, HDL Design House's mission is to deliver high quality products and services, with flexible licensing models, competitive pricing and responsible technical support. The company was awarded ISO 9001:2008 and ISO 27001:2013 certifications in December 2006 and has achieved certifications from Direct Assessment Services (DAS). For more information, please visit www.hdl-dh.com.
The ideal candidate will have the following skills and background:
The successful candidate will have proven industry experience driving system architecture, from initial prototypes to production code
Master's or Bachelor's degree in Computer Science, Computer Engineering, Electrical Engineering or related technical field
Experience developing firmware for different microprocessors and with different tool chains including small footprint embedded systems preferred
Experience writing or designing firmware for UART communication interface
Experience identifying hardware requirements based upon system firmware requirements a plus
Works with Engineers, Designers, Innovators, and other experts to architect and realize intent and experience design of embedded systems and solutions. Uses concept sketches, pseudo-code, engineering design/ideas, and other communication methods to assure clear understanding of technological capabilities and limitations
Understanding of embedded firmware architecture and system design
Proven strong understanding of software design processes, methodologies and approaches
Ability to support all phases of the product development cycle including architecture, design, development, debugging, documentation and validation
Experience developing firmware for systems using low power 32-bit micro-controllers
Experience writing or designing embedded low power management firmware
Demonstrated expertise in design of multitasking, event driven real time firmware using C and deep understanding of RTOS concepts
Excellent creativity, communication, presentation, troubleshooting, time-management and analytical skills are required
Your key responsibilities:
You will be responsible for embedded firmware design of innovative products in AI market. This role will assist in the development of a robust firmware platform by designing efficient, testable, and scalable code that can execute across different hardware platforms.
We offer:
Opportunity to work on projects for some of the best Semiconductor companies in the world
Possibility of working from Thessaloniki/for a certain period of time
Unique chance to join a rapidly expanding company offering fantastic career and skills development opportunities, as well as an exceptional salary
Permanent employment and private health insurance and additional benefits
Opportunity to be involved in sports and team building activities with colleagues
Opportunity to travel abroad and work on our clients' cites
Working in young and enthusiastic team
For all candidates proficient knowledge of UNIX/Linux and fluent English is a prerequisite!
Please send your CV electronically.
Deadline for applications: 14.11.2019.