Mesto:
Beograd
Senioritet:
Intermediate
Datum postavljanja:
04.11.2017.
Rok:
19.11.2017.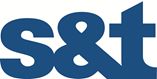 We are always seeking motivated individuals who share our goal of developing and providing the highest quality of services to our growing customer base.
S&T Serbia offers exceptional opportunities to work as part of our international team as a consultant, working with leading edge companies on major IT projects. We look for people that have the desire and ability to continuously learn and grow, and who are committed to quality and excellence. Our reputation is based on the professionalism, competence and quality of our people.
We are offering the opportunity for talented individuals to join our company and to become:
IT Network Engineer / Specialist
Belgrade
Requirements:
Bachelor of Science degree (Electrical Engineering preferred)
Minimum three years of experience in network administration and security
Cisco certification

CCNA Routing & Switching Expected (CCNP preferred)

Basic knowledge of

IT Network architecture and/or design (routing & switching technologies, High Availability, TCP/IP protocols)
Operating systems - Windows and Linux
Open source network monitoring tools – Nagios, Cacti or similar products

Understanding of cyber security product/solution (Web Application Firewall, DB Firewall, SIEM, NGFW, Proxy, IDM, etc.)
Team spirit and ability to work independent if needed
Driving License B category
Responsibilities:
Performing analysis of network, security and QoS needs and contribution to design, integration, installation, maintenance and administration of hardware and software including routers, switches, firewalls, intrusion detection/prevention systems and voice infrastructure
Analyzing, troubleshooting and correcting network problems remotely and on-site (L1-L3 technical support and case management with vendor)
Maximizing network performance by monitoring performance; troubleshooting network problems and outages; scheduling upgrades; collaborating with network architects on network optimization
Securing network system by establishing and enforcing policies; defining and monitoring network access
Reporting network operational status by gathering, prioritizing information
We offer:
Above market financial remuneration and attractive compensation packages with varied ways of rewarding success and benefits
Financial stability, continuous growth and business success
Strong opportunities for professional growth, by enhancing skills through extensive trainings and participation complete innovative projects and generally by taking on new tasks in order to develop the employees
S&T Serbia, part of Austrian based international corporation S&T AG, is one of the leading companies in IT services in Adriatic region. S&T Serbia combines world class technology with regional expertise and strong local understanding of customers' needs and expectations. It has been present on Serbian market for 20 years. Additional information can be found at www.snt.rs and www.snt.at.
Rok za konkurisanje: 19.11.2017.
Apply here
Ask the employer