Mesto:
Beograd
Senioritet:
Junior
Datum postavljanja:
12.09.2019.
Rok:
17.09.2019.
Levi9
is 999-strong Dutch IT service provider with three Delivery Centers in Central and Eastern Europe. We partner with clients from an eclectic array of industries, ranging from digital marketing and sales, over transportation services, banking and ISVs to TV production. We make an impact on business with technology by taking an initiative and being proactive in delivering results. Only if everybody is willing to be transparent and share their knowledge, we will be able to get the insight we need. Strongly committed to our people, that is who we are. Join us, grow with us and have fun becoming a part of our successful story!
We are looking for a
Junior Security Officer
Belgrade
Job summary / Short role description:

We are Due the growth of Serbian Delivery Center, Levi9 is looking for Junior Security Officer (SO), based in Belgrade Office. The primary goal of the position is assisting Information Security Officer (ISO) in activities towards ensuring compliance in the fields of cyber security, privacy, GDPR compliance and ISO 27001 certification.
SO is performing duties in collaboration with Company Management, Information Security Management Team, IT Operations Department and Project Delivery Teams. SO is also working in collaboration with cross-country initiative group led by Headquarter Security Officer. Within this initiative group we create approach, vision, tools and basically everything through our join collaboration making the most of and combining our experience, skills and passion of each person involved in the group.
What are we looking for?
- University Degree in Information Technology or Management field
- Strong communication, analytical and critical thinking skills
- Strong planning and presentation skills
- Well-developed and professional interpersonal skills; ability to interact effectively with people at all organizational levels of the company
- Excellent knowledge of English language
- Working experience in IT environment is a plus
- Basic knowledge of cyber security systems, risk management and best practices of secure software development is a plus
- Knowledge of EU data privacy and local data protection regulation is a plus
Duties and responsibilities
- Conducting and contributing to content of awareness campaigns and training of all employees
- Acting as a first point of contact for security and privacy related questions for all employees in Belgrade Office
- Assisting Delivery Managers and the teams with identifying risks in the projects and brainstorming ways to improve security
- Working together with our customers on improving security and making sure compliance requirements are met
- Acting as a knowledge holder and point of contact in case of security incidents and data breaches
- Contributing to establishing and maintaining processes aimed at compliance with GDPR
- Conducting regular audits to ensure compliance with GDPR and ISO 27001
- Contributing to raising maturity of our company in security and privacy
- Creating and maintaining documentation on compliance with ISO 27001 and GDPR
- Working together with our Security Team on planning and implementation of technical measures to improve security
- Maintaining and reassessing risk register
- Reporting to ISO and ISMS Management on the progress
- Communicating with different stakeholders (Country Manager, Delivery Directors, Delivery Managers, Department Managers, Project Teams etc.)
What we offer?
- Permanent employment
- Opportunity for creative and independent work in an international working environment
- Personal development plans, mentoring program, trainings, education and certifications
- Business travel opportunities
- Adjustable start of your working day and optimal work load
- Great colleagues, open, informal and fun atmosphere
- Private health insurance and paid sick leave
- From 23 to 30 days of holiday per year, depending of the time spent in the company
- Gym and Game room for health and fun
- Parking lot for your car
- Relocation package if you are moving to Belgrade
Join the magic number!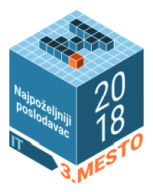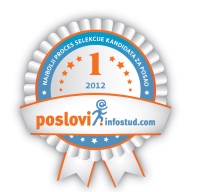 Deadline for applications:
17.09.2019.