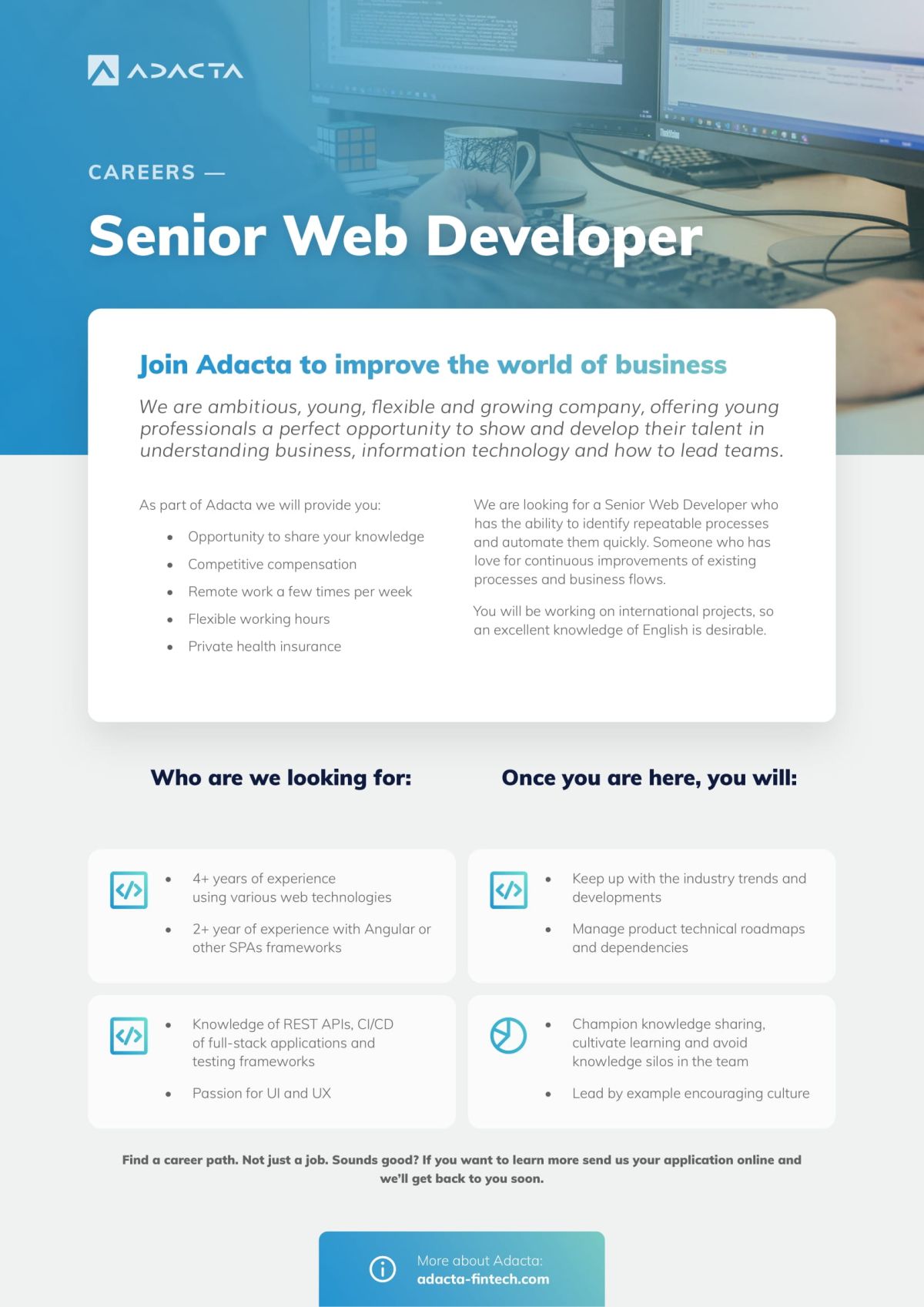 Upoznaj kompaniju
Adacta d.o.o.
Adacta is an international software company founded in Ljubljana in 1989. Today, there are about 400 of us in several European cities: Ljubljana, Maribor, Belgrade, Moscow, Brno and Zagreb. The Belgrade office has existed since 2002 and has over 50 employees. Adacta combines the latest technologies, innovative solutions and knowledge of business processes in order to help insurance companies improve their business. Our product - AdInsure is a powerful platform that supports all core processes in the insurance company.
Technologies
AdInsure is a modern and smart platform with a great possibility of configurations as well as deployment to the cloud or on premise.
Client-side is an HTML and JavaScript application in the Angular framework, and the user interface is based on Bootstrap.
Server-side is based on WebAPI technology and uses Microsoft .NET Core (C #) and Node.JS, and we also use ActiveMQ, Elastic Search.
Databases are Microsoft SQL Server or Oracle as well as NoSql databases.
Benefits
Adacta offers you great benefits:
- Flexible working hours with the possibility of choosing permanent work from home or in the office
- Private health insurance
- FitPass, coffee / drinks / fruit in the office, birthday gifts, language and education courses, teambuilding, entertainment and socializing. So, we attach a lot of importance to both the importance of physical and mental health.
We nurture teamwork where we all learn from each other and nurture a culture of asking questions and appreciating ideas.
Prosečna neto plata
2500 €
Software Architect 1 plata
Prosečna neto plata
1000 €
Software Engineer 1 plata