Artificial Intelligence & Machine Learning Development Engineer
27.01.2021.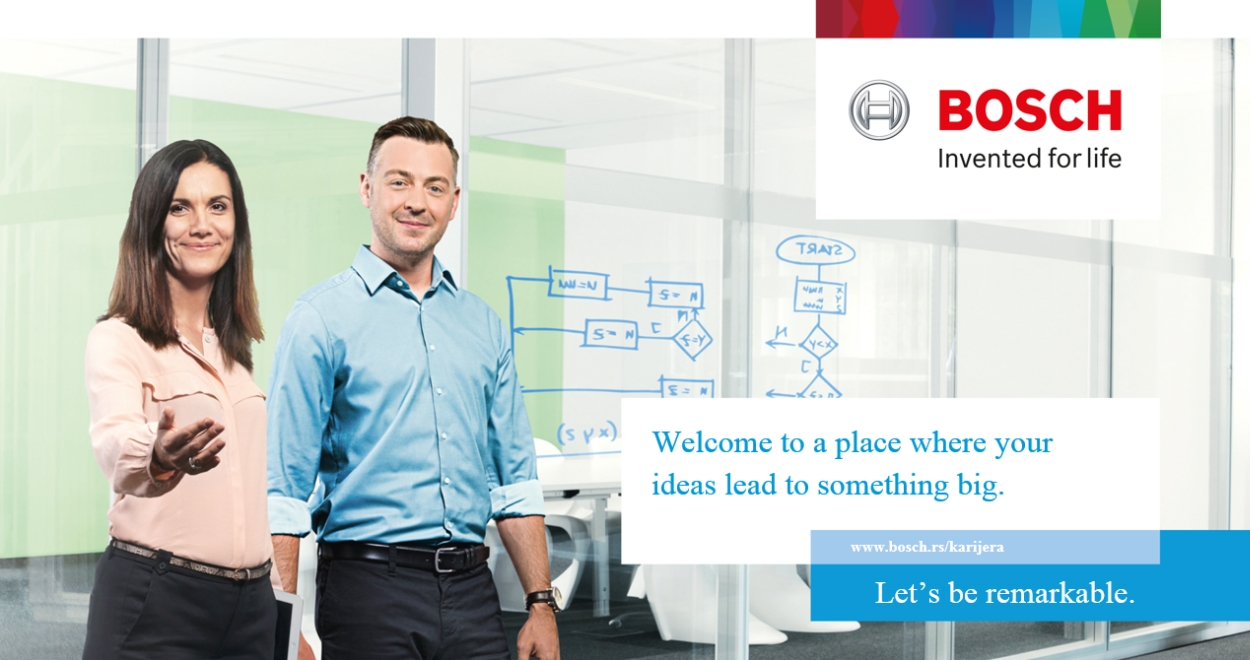 Start something big today. Apply now:
Artificial Intelligence & Machine Learning Development Engineer
Company Description
Do you want beneficial technologies being shaped by your ideas? Whether in the areas of mobility solutions, consumer goods, industrial technology or energy and building technology – with us, you will have the chance to improve quality of life all across the globe. Welcome to Bosch. At Bosch, we develop, examine and enhance new systems, components and technologies. Our aim is simple – improving lives. Bosch has been present in Serbia since 1991. Today, Bosch in Serbia is active in three of the company's business sectors: Mobility Solutions, Consumer Goods, and Energy and Building Technology. The central areas at our Belgrade location develop and support the company's medium and long-term strategy, thus promoting a sustainable growth.
You will be part of Corporate IT delivery team at our location in Serbia. First AI and ML projects will be in filed of Natural language processing. You will use data from Bosch's various business divisions, where we conduct cutting-edge research that focuses on safe, secure, robust, and explainable AI. .
We are committed to build strong AI competence centre and to develop further experts in Serbia for Bosch group. We aim in future to design and implement AI for smart, connected, and autonomous technologies across Bosch business sectors which will have impact on daily life of our environment.
Job Description

► Analyze data, develop and implement application code that satisfies application solution design requirements

► Assist in the design and development of ML proof of concept and prototype application environments

► Utilize relevant application ML coding techniques and standards as defined by Customer, IT Architect, Process/Capability Consultant

► Collaborate with IT Architects & Consultants in virtual teams on the delivery of application functionality

► Participate in tier 3 application support activities including incident management and the assessment and delivery of application upgrades and patches

► Provide continuity with application and infrastructure management operational groups during service transition

► Perform unit tests to ensure quality (incl. execution of test plans, debugging, and subsequent fixes)

► Document application specifications and support the creation of operational support manuals during the technical implementation

► Perform detailed activity task management including task estimates and task progress updates

► Develop and maintain code repositories according to established version management approaches and methods in alignment with Product Development Managers

► Identify and evaluate risks and participate in mitigation and control activities

► Mentoring and development of interns

Qualifications

► Expert knowledge in respective development of Machine Learning and model deployment using Python or C#

► Knowledge about NLP is a plus

► Working knowledge of quality assurance methods, tools, and techniques as well as the ability to interpret quality indicators relevant to own unit or function

► Capable of documenting and interpreting functional and technical specifications top transform into deliverables

► Experienced in effectively interacting and communicating

► Consulted on various aspects of moving applications into the production environment

► Team player

► Agile mindset

► Fluent in Serbian and English language
Additional Information
Be part of the worldwide Bosch IT delivery community | People first culture | Self-development opportunities using trainings or conference formats suitable to you | Freedom to act autonomously | Experience Agile and design thinking environment | International environment | Flexible worktime options | Company events.
Make it happen.
If you believe you are the right candidate, please send your CV in English using Apply button.
Only shortlisted candidates will be contacted. www.bosch.rs/karijera