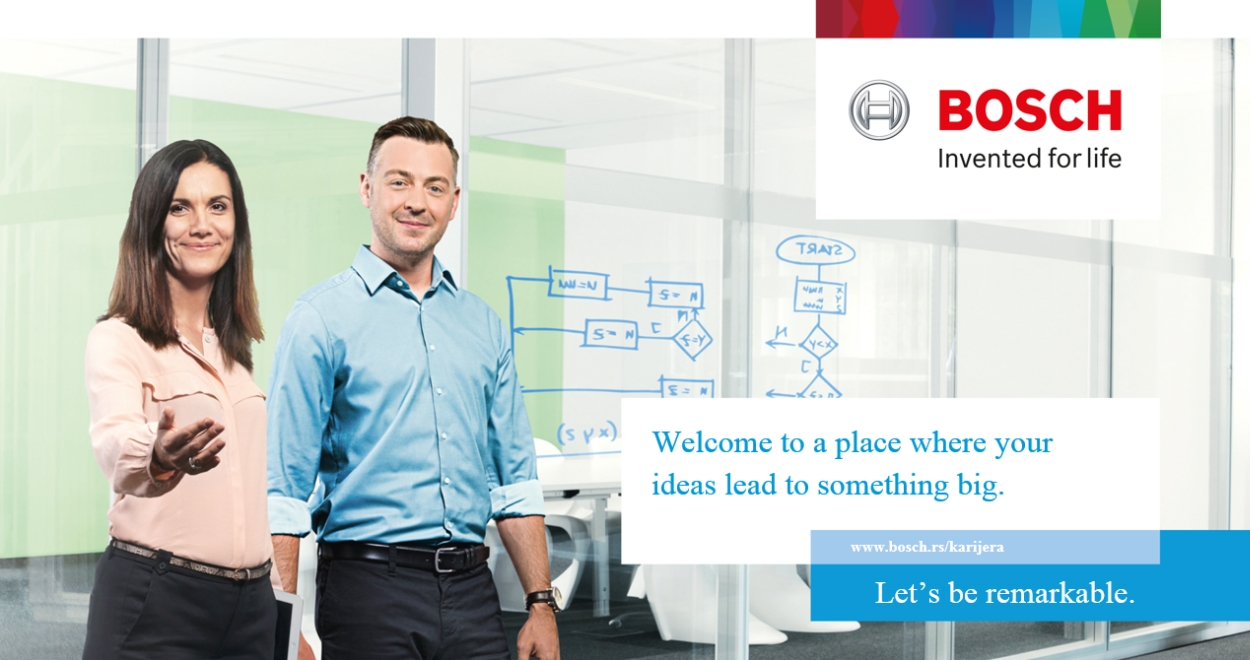 Start something big today. Apply now:
Data Engineer – Knowledge Graph

Company Description
About Bosch:
 Do you want beneficial technologies being shaped by your ideas? Whether in the areas of mobility solutions, consumer goods, industrial technology or energy and building technology – with us, you will have the chance to improve quality of life across the globe. Welcome to Bosch.
About project and team:
You will have a chance to work on our code name "TOP98 Project". It is 1 of 100 innovation projects that happen in our company that aims to place our company as AIoT market leader. You will be part of a global team of 20+ top-class engineers. Together with the engineering team, you will try to innovate and push a product to production and test it.
About team in Serbia:
We are a part of Global Corporate IT Delivery division. On our location in Serbia we are constantly growing and supporting Bosch in AIoT development and digital transformation. At this moment we have around 100 software engineers of different profiles. If you decide to join us, you will have a chance to work on new and exciting project in the upcoming years. Key value of Bosch and our team is work-life balance and we strive to offer opportunity, responsibility, and perspective in terms of career development.
Interested? Get ready to work #LikeABosch!
Job Description

Our team is happy to welcome you. Here is what you will be doing if you choose to join the team:

► You will build and create ontologies and taxonomies in the field of knowledge graph applications

► You will Implement data processing pipelines for integrating data into a triple store, transforming, and linking data

► You will manage and orchestrate knowledge graphs and assure quality and scaling

► You will develop data models and corresponding database architectures

Qualifications

Who you are:

► You have experience working experience in using triple-stores, RDF, semantic web stack technologies like OWL.

► You have practical experience using query languages like SPARQL, SQL or Gremlin

► You have very good understanding in dealing with data and data modelling

► You feel comfortable with communication and collaboration in the daily work with software developers and in explaining technical dependencies to unfamiliar people

► You enjoy working in agile teams

► You have Degree in computer science, software engineering, information technology, communication technology or similar

You would be a perfect match to our team if:

► You are eager to work with the newest technologies,

► You are proactive and you adapt easily to new development environment, but don't worry, we will be there every step of the way, supporting each other

► You are self-motivated and take ownership of your tasks and projects

► You're a team player and offering and receiving feedback comes naturally

► You take ownership of projects and tasks

► You're not afraid to think outside the box and try to find creative approaches to your challenges
Additional Information
#LikeABosch Benefits:
Your work-life balance is valuable to us, so we offer you:
22 - 26 days of annual leave, because work-life balance is essential to us;
Flexible working hours;
If you want to work from somewhere else, feel free, our Remote Home Office program helps you do that;
Up to 3 days off for private purposes.
Your health and well-being is important to us, so we have you covered:
Medical subscription for annual health check ups;
Mental health and well-being initiatives.
We believe in a Life-Long Learning approach, so you can take advantage of:
Technical and soft skills trainings;
English and German language courses;
Local and Global career development programs;
Opportunity to attend conferences.
You will be part of a product company. You will contribute to developing end-to-end products that are delivered to global internal/external customers and users.
On top of these, we are offering:
Remote working environment (in borders of Serbia);
Canteen (when working in office) with lunch discounts;
Annual bonus;
Referral bonus.
Ready to work #LikeABosch?
We live by our values, have an open feedback culture and there is plenty of room for innovative ideas. All because a team is only as valuable as its members.
Included in the referral program
Make it happen.
If you believe you are the right candidate, please send your CV in English using Apply button.
Only shortlisted candidates will be contacted. www.bosch.rs/karijera
Upoznaj kompaniju
Robert Bosch d.o.o.
Robert Bosch d.o.o. je regionalna grana Bosch Grupe, jedne od najvećih svetskih industrijskih kompanija.
Sa sedištem u Beogradu, Robert Bosch d.o.o. u Srbiji je počeo sa radom 2006. i preuzeo je odgovornost za izgradnju poslovanja u Crnoj Gori i na Kosovu. Na ovim tržištima Bosch distribuira proizvode iz oblasti automobilske opreme, električnih alata, grejne tehnike, bezbednosnih sistema pod brendovima Skil, Dremel, Bosch, itd.
U 2009. godini promet na srpskom i crnogorskom tržištu iznosio je 18,7 miliona evra. Ovom rezultatu doprineli su svi Bosch-ovi poslovni sektori. Početkom 2010. godine Bosch otvara novo odeljenje, jedno od 4 u svetu, koje se bavi marketing istraživanjem automobilske industrije i broj zaposlenih se povećava sa 39 na 47 u tekućoj godini.
Prosečna ocena
na osnovu 7 recenzija
Karijera / privatni život
Iskustvo o radu
ljudi koji rade u proizvodnom pogonu se kuvaju ovih dana,dok se mi u kancelarijama smrzavamo. nerealna ocekivanja ...mala primanja...
Osoba nije želela da prikaže svoje lične podatke
Trenutno zaposlen/a u kompaniji
Zaposlen Manje od jedne godine
Ove informacije su mi korisne
Prosečna neto plata
1083 €
IT Consultant 3 plate
Prosečna neto plata
2220 €
IT Manager 2 plate
Prosečna neto plata
1433 €
Project Manager 3 plate
Prosečna neto plata
950 €
Business Analyst 1 plata
Prosečna neto plata
2000 €
Scrum Master 1 plata
Prosečna neto plata
1986 €
Software Developer 5 plata
Prosečna neto plata
2450 €
Software Engineer 2 plate