Senior Automation Engineer
02.10.2021.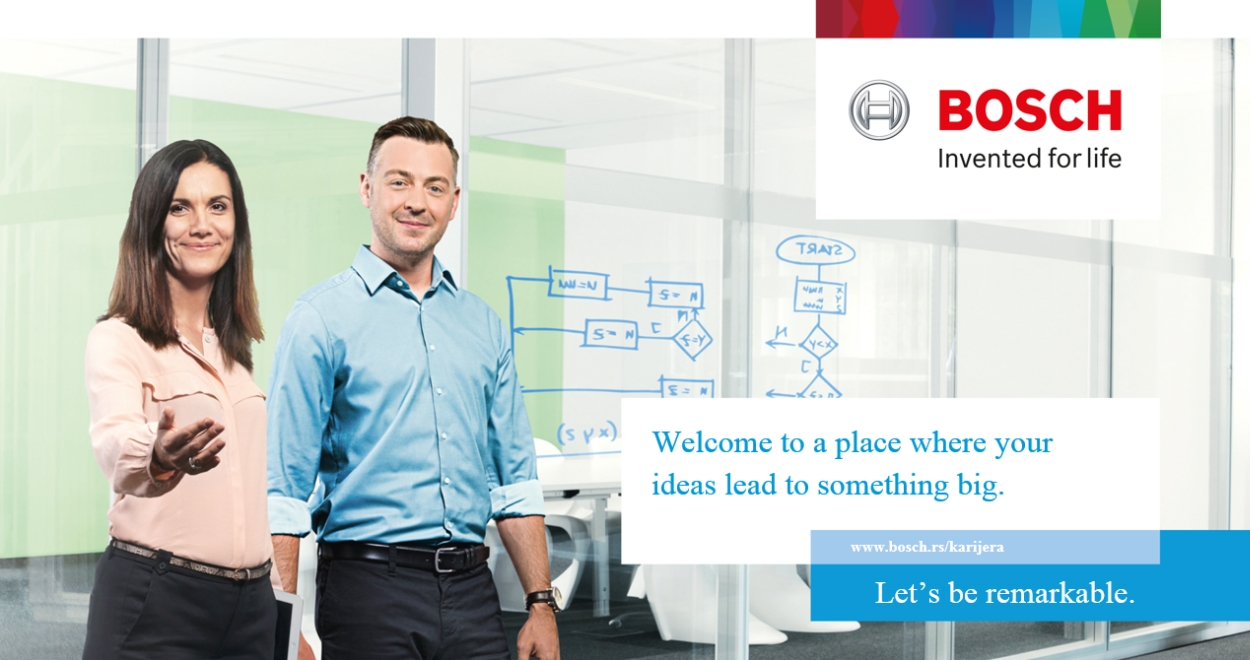 Start something big today. Apply now:
Senior Automation Engineer

Company Description
Welcome to Bosch SoftTec
We're building innovative solutions for the connected vehicle, using the latest technologies to build the connected car of tomorrow. Our portfolio includes smartphone integration, cloud services, and embedded technology. We're driven by creativity and a desire to shape the future.
Mobility is one of our core competencies, and we strive to aid adventurers of the new age in their endeavours! By applying to this position, you will have the unique opportunity to develop the app which is used by users all over the globe. Take a look at:
https://www.bosch-mobility-solutions.com/en/solutions/charging/charge-my-ev/
https://www.bosch-softtec.com/myspin/
Job Description

► Build and maintaining an internal mobile automation framework by analysing documentation, frameworks and tools

► Collaborate closely with Manual Testers, Developers, Product Owner and other stakeholders to identify requirements

► Develop, apply and support best practices for automation

► Hold a regular sessions to enable manual testers to effectively utilise automation tools/frameworks

Qualifications

► 6+ years of experience in mobile applications testing

► Strong knowledge of any OOP programming language (preferable Python or Java)

► At least 4 years of experience in test automation and related frameworks (preferable Appium/Selenium)

► Experience in (mobile) software testing and software development processes

► Good knowledge of software QA methodologies, tools and processes

► Experience with agile development methods (e.g. SCRUM, SAFe)

► Good practical experience with JIRA

► High self-initiative, independent, structured and goal-oriented way of working

► Successfully completed a degree in computer science or comparable training

► Good English skills both written and spoken, German is a plus
Additional Information
About Us
Our spirit of innovation, combined with Bosch's expertise in automotive technology, gives us a unique edge in the market. You will be a part of a larger, agile team developing innovate software products in the automotive domain.
Where work isn't all about work
We believe that creativity doesn't come from nowhere. It has to be nurtured. So we've done everything we can to create a working environment where creativity can thrive, where the downtime is just as important as the uptime.
It's all about the people. People just like you.
Inspiration comes from many places, but nowhere more so than the people around you. At Bosch SoftTec, you'll be working with colleagues who are smart, switched on and serious about building the future. The team is small and each person makes a big difference. Be open for new ideas, we can't wait to hear yours. Your opinion really does count – your efforts will shape the future of our app.
What we offer
Professional development | International working environment | State of the art projects | Work-Life Balance | Flexible working hours | Canteen | Compensation packages | Room for creativity
Included in the referral program
Make it happen.
If you believe you are the right candidate, please send your CV in English using Apply button.
Only shortlisted candidates will be contacted. www.bosch.rs/karijera