Software Developer for Operations
15.11.2019.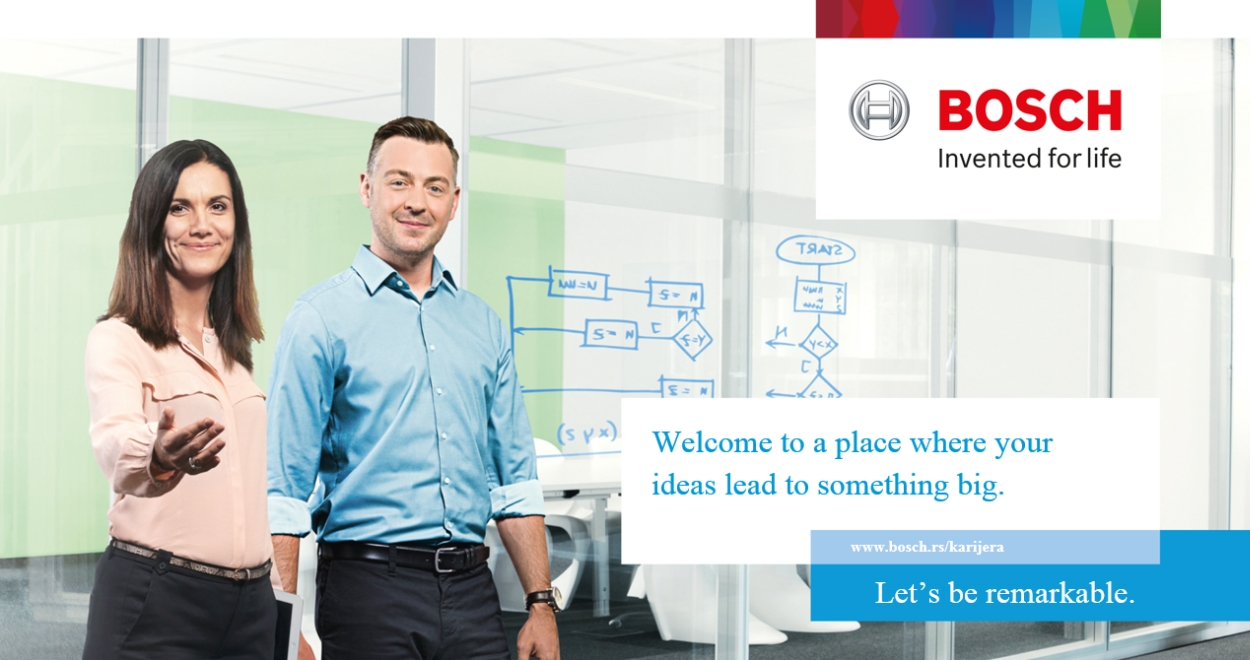 Start something big today. Apply now:


Software Developer for Operations

Company Description

Do you want beneficial technologies being shaped by your ideas? Whether in the areas of mobility solutions, consumer goods, industrial technology or energy and building technology – with us, you will have the chance to improve quality of life all across the globe. Welcome to Bosch. At Bosch, we develop, examine and enhance new systems, components and technologies. Our aim is simple – improving lives. Bosch has been present in Serbia since 1991. In 2006, it was set up as a fully foreign-owned subsidiary. Today, Bosch in Serbia is active in three of the company's business sectors: Mobility Solutions, Consumer Goods, and Energy and Building Technology. The central areas at our Belgrade location develop and support the company's medium and long-term strategy, thus promoting a sustainable growth.

Bosch SoftTec GmbH is a subsidiary of the Bosch Group with offices in Germany, USA, India, China and Serbia. Leading the way with big data, connected services and digital products in the automotive area, and at the same time being compliant with manufacturers all over the world, our scalable services, platforms and solutions represent a new framework for connected mobility concept.

Job Description

► Shape the future: You will work in a team that is developing a intelligent and reliable cloud operation for connected mobility services.
► Rather than just building it and giving it to somebody else your motto shoud be "You build it, you run it, you own it". This is our approach. What we need on this position is that you keep it up and running with your knowledge of software development.
► Create new things: You will be part of an agile team that builds service solutions on all levels of the mobility services. From the connected devices up to cloud application, from solutions concepts to continues deployments.
► Deliver value: You will deliver high-quality solutions for the needs of a reliable application operation and support the developer teams with your expertise.
► Take responsibility: Depending on your experience there are a lot of components, technologies and tools that you can take responsibility for and steer them towards our common goal.
► Culture: Create with us a new culture of operating connected mobility services.
► We don't expect you to know everything. Having solid engineering background and some experience will do. A willingness to learn. And be reliable. Some people tend to call this position Site Reliability Engineer.

Qualifications


► You are creative and team-orient
► You have good communication skills to work within international teams
► You are thinking goal-oriented and are working methodically to reach those goals
► You like to maintain and increase the customer confidence in our services
► You love problems and incidents, because you are able to understand and solve them with your analytical approach and share this knowledge within the teams.
► You don't like to do manual tasks, you like to automate them.
► You are familiar with microservice architectures and how to run and scale them in cloud infrastructure e.g. CloudFoundry, Azure or AWS
► You have keen practical knowledge Continues Integration and Deployments, deployment strategies, cloud infrastructure and cloud application monitoring and recovery technics
► Object oriented software development and script languages are your daily toolings e.g. Bash, Python, Ansible, Java, GIT, Linux server and UML
► Great if you have a bachelor/master degree in one of the following subjects: Computer Science, Electronics, Physics or similar. If you do not, but have a proven track that you can do the job – just as good.

Additional Information

Personal development | International environment | Flexible worktime options | Inspirational working space and working conditions | Compensation packages | Sports opportunities | Company events
Make it happen.
If you believe you are the right candidate, please send your CV in English using Apply button no later than 15.11.2019. Only shortlisted candidates will be contacted. www.bosch.rs/karijera