QA Automation Tester
09.03.2021.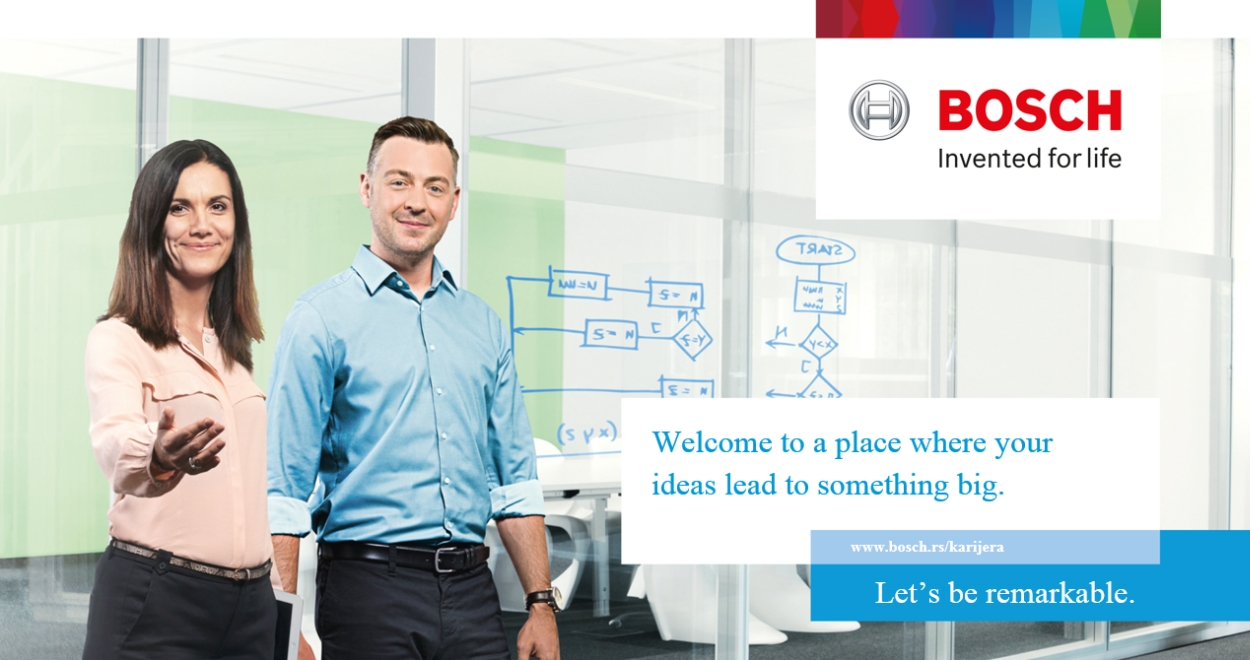 Start something big today. Apply now:
QA Automation Tester
Company Description
Do you want beneficial technologies being shaped by your ideas? Whether in the areas of mobility solutions, consumer goods, industrial technology or energy and building technology – with us, you will have the chance to improve quality of life all across the globe. Welcome to Bosch. At Bosch, we develop, examine and enhance new systems, components and technologies. Our aim is simple – improving lives. Bosch has been present in Serbia since 1991. Today, Bosch in Serbia is active in three of the company's business sectors: Mobility Solutions, Consumer Goods, and Energy and Building Technology. The central areas at our Belgrade location develop and support the company's medium and long-term strategy, thus promoting a sustainable growth.
Project description:
We are working on web application for after sales tools repair and repair tracking system. This project is constantly growing, currently implemented in Asia, Africa, Latin America, with goal to be worldwide solution used by all service centers who repair Bosch tools. We are using Azure environment for development and CI/CD. Technologies we are using for development are SpringBoot, Stencil, .NET, elastic search. For testing we are using JIRA, Selenium, RestAssured. Team working on this project is stable, experienced and eager to have more QA automation folks who will support that expansion of the projects is happening smoothly.
Why we need you:

► We have a lot of UI / API automation tests written, so we would like to continue this journey with you;

► Project written above grew, so we need more automation to make project even more secure;

Why you'll love to work with us:

► Great long term projects, new technologies, experienced colleagues, international environment which will help you to grow maybe faster then you're used to;

► Being part of a great testing team will challenge you to grow personally and professionally;

► Brand new workspace, Bosch canteen in the building (once we are back in the office). Until then, home office with necessary equipment from the company;

► High level of creative freedom: We will provide you complete network, resources, knowledge we have, but you have to use your creativity to become better every day;

► Access to the latest tools and technologies from the market.
Job Description

► Writing and maintaining automated tests in Selenium (Java background);

► Writing and maintaining automated tests in API (Rest assured);

► Keeping testing documentation up to date on the project related to automation testing;

► Designing (together with other QA on the project) and executing system, regression and end to end acceptance tests;

► Preparing Test plans;

► Using Git as a version control system;

► Logging and categorizing issues in our defect management tool;

► Providing clear and concise test and bug reports;

► Attend all Scrum meetings and ensure the code is written with testing in mind;

► Suggest and implement improvements of current testing processes;

► Working with other teams (internal) to ensure the highest possible quality of service and delivery.

Qualifications

► 1+ year experience in test automation;

► Experience with continuous integration/delivery workflows;

► API testing experience;

► Load and Performance testing using Jmeter is plus;

► BDD tools and environment is plus;

► Formal testing qualification such as ISTQB / ISEB CTFL is a plus

► Excellent and proficient usage of English language is a must;

► Previous experience within Agile (Scrum) organization;

► Knowledge of JIRA or any other Agile tools is a must;

► Previous experience with multicultural environment is a plus.
Additional Information
More about QA team in Bosch, Serbia:
We love good energy, technology, challenges, asking questions, being able to change, working in international environment, having fun. All in all, we love QA and everything that goes around it. In the last 5 years we grew a lot as a team, but also as individuals with weekly knowledge sessions, reading books, visiting conferences, different testing community meetups, etc. We are working on different IT projects where we have the freedom in organizing our work in a way we think it's the best, making mistakes and learn from them, but more importantly, we have a lot of fun while we do a great job. If this is environment you would like to be part of, make your first step and apply. See you soon!
Make it happen.
If you believe you are the right candidate, please send your CV in English using Apply button.
Only shortlisted candidates will be contacted. www.bosch.rs/karijera