Kompanije pišu
Prostor za poslodavce i njihove priče o zaposlenima, tehnologijama, projektima, uslovima rada ispričano kroz kratke članke.
From Support to Development: Changing Roles at LearnUpon
LearnUpon is a company that values its team. As life moves on and goals change, we want to help our employees follow their ideal career paths and aspirations whenever we can. One example of this in action is our Internal Systems Developer, Brendan Cregan. With LearnUpon for almost 4 years, he's experienced a lot of changes since joining. Today, we wanted to share his story and give an insight into his transitioning role within the company. Hey Brendan, let's go back to the beginning, how did you start working at LearnUpon? Well, after graduating with a development degree (I have a masters in software development), I ended up in the job marketplace in the middle of the recession. It was extremely hard to find a job as a developer in Ireland, particularly if you didn't have previous work experience. So, I moved to Galway and took up an eLearning support role there. That decision was the first step on the road that led me to LearnUpon. Afterward, I moved to Dublin for another technical role in an IT department. After working there for a year, I came across an ad for a support role in an eLearning startup in Dublin and it sounded really cool. It turned out to be LearnUpon. I had several interviews with the team, including Brendan, Cathal, Shane, and Lisa, who are all still here. The role really appealed to me as it had a range of technical requirements. I could make use of my college education – using SQL, and tech like APIs, SAML, SF, etc. And, in general, I saw that the whole support team at LearnUpon were really knowledgeable from a technical perspective.  So, you were happy with your support role – then what happened?  After a few years working in the support team, I knew that I wanted to move toward a development focused position. Although support was great, and I learned a lot, I felt that I wanted to give development a go. And considering it was my focus in college, I wanted to make it my career. I also felt that LearnUpon could be a place where I could do that. I talked about this with our founders, Brendan and Des, and they helped me plan out  a potential move to a new role. And what was that like? Some planning was needed around training and the initial workload. During this time it was a 50/50 role - half support and half development. What I found amazing was that everyone was super supportive in helping me out when I ran into any problems or needed help understanding something. Cathal, who's Head of Infrastructure and Security, was my initial manager and he was very helpful in managing my work and assisting me with tasks. Now, you work remotely. How did that happen and is this something you've always wanted?  Well, you know, remote work isn't something I planned, but living in Canada was something that I always wanted to do. So, after two and a half years at LearnUpon, I decided it was time to move. I didn't want to put it off any longer. When I finally made the decision, considering that LearnUpon was still a smaller company, I wanted to give Brendan and Des as much notice as possible so they could find a replacement before I left. I emailed them about 8 months before I planned to leave. I didn't have any expectations about keeping my job, but luckily, the guys were happy to let me work remotely. So here I am, in Vancouver, Canada, coding since January 2018. What is your role currently like at LearnUpon and what are you up to now?  Right now, I'm focusing on internal projects with the Development team. It's been a real challenge getting used to working with the app and new programming languages like Rails. There's been a steep learning curve, but everyone has been really supportive in helping to get my skills up to speed. Now I've got the development role that I've always wanted and I'm having the time of my life.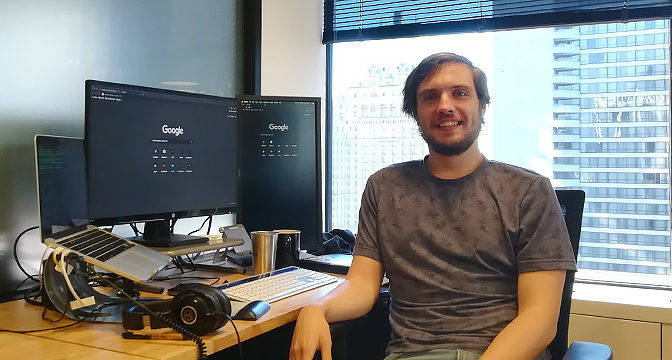 Discover What it's Like to Work as a Rails Developer at LearnUpon
What's it like to work at LearnUpon? We sat down with Marija Jovanović, a Developer based in our Belgrade office, to discover how she got started with the company and what it's like working for the LearnUpon team. Why did you decide to join LearnUpon? It was definitely a combination of the technology that's being used in LearnUpon and the fact that we're developing a product that's our own. From experience, I know that there's a big difference between working in an outsourced environment and working in a single product company, and that's often a deal breaker for me. I like the fact that I'm working on a single product each day, that I have a chance to make an impact, and that we invest a lot in it. Before joining LearnUpon, I was working with the Rails framework. I really liked it because it's intuitive and logical. I knew I wanted to continue to work with it, and LearnUpon was one of the few companies that were offering that opportunity. What makes you want to stay with LearnUpon? All the reasons that made me join are the same ones that are keeping me here. There's a lot of opportunities for progressing professionally which is very important for developers. What's also great about LearnUpon is that it's possible to change roles across the company depending on your interests as an employee. But after some time working in LearnUpon, I can now say that there's one factor that's even more important than all of this – the people. When you mention people, how would you explain LearnUpon's culture? Well, I enjoy the fact that I'm working with genuinely good and smart people. There's no placing blame on someone if things aren't going as planned. Everyone is always ready to lend a hand, and they'll make you laugh while they're doing it. Our team has made a ritual of celebration every big (and little) occasion. Cake is really important here! What's really cool is that we sometimes get to travel to Dublin to spend some time with team members from other locations – it's always great fun. It's such a good feeling when you meet everyone that you've been chatting with on Slack each day in person. It feels like you know them so well before you've even met them face-to-face. For me, it all comes back to people – I think LearnUpon's amazing people are their best asset.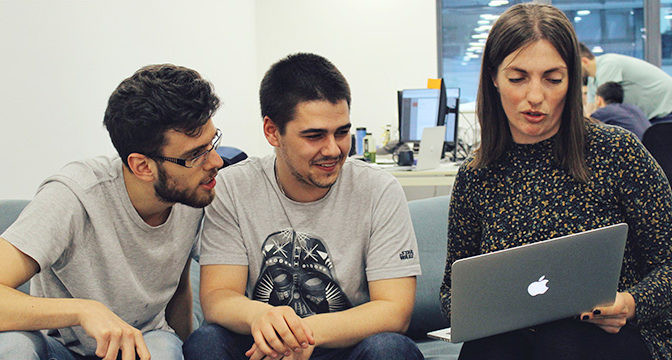 Kompanija Bosch organizuje susret sa IT kandidatima
Kompanija Bosch Srbija je ove godine otvorila novo odeljenje, Bosch SoftTec, koje 17. novembra organizuje događaj gde ćete moći da čujete više o ovom novom odeljenju. Imaćete priliku da postanete deo rastućeg internacionalnog tima, direktno aplicirate na otvorene pozicije i obavite razgovor za posao već na samom događaju.